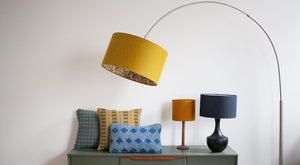 Beautiful handcrafted home decor exploring the universal language of pattern and design. Natural textiles from around the world and sustainable materials tell stories of traditional skills reinterpreted to fit your uniquely curated home.
---
Artisan Textile Double Sided Lampshades
Pattern on the outside or pattern on the inside?
With a pattern on the outside, the lampshade wears its print boldly with or without the light on. The colour of the lining changes the quality of the light and affects the mood of your chosen corner.
A plain colour on the outside makes a subtler addition to your room, complementing or contrasting with your existing palette. The pattern inside shines through as the light is turned on, changing the look of the lamp as well as the space around it.
SHOP LAMPSHADES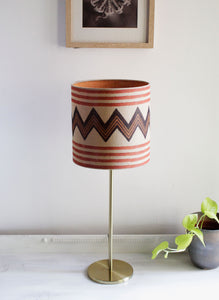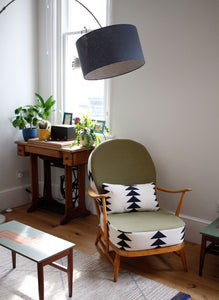 Repurposed furniture & accessories
Painted or upholstered, timeless pieces of furniture and accessories are reimagined for modern living. 
I specialise mostly in mid-century pieces but can turn my hand to anything that inspires me. Each product is unique and combines my favourite fabrics, colours and designs.
I have a limited stock of repurposed furniture available in the shop, but I am also happy to look for just the right piece and update it to suit your needs.
SHOP REPURPOSED
Textured Linen, Cotton and jute Cushions
A range of natural fabric cushion covers to bring colour and texture to your space.
Hand printed or hand woven in a range of hues and patterns to fit your style, they blend traditional and contemporary design to become part of your personal design story.
All cushion covers come with a certified cruelty free soft feather pad.
SHOP CUSHIONS
My Design Story
Hi. I'm Debbie, the designer and maker behind Tāla Home and Living. Thank you for stopping by. My design story started on journeys around the world. As I travelled, I collected my favourite fabrics and pieces. I spent time with local artisans and began to curate pop up shops and markets in India and the UK.
Tell me More